International Symposium in Dresden – 19th October 2019
…where Science meets Music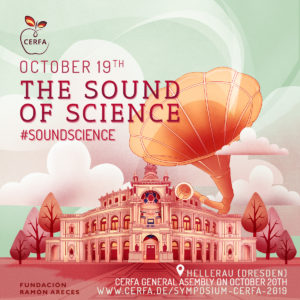 Dresden hosts one of the most famous opera house in Germany: the Semperoper, and its artistic spirit can be felt all around the city. From the Society of Spanish Scientists in Germany, we have taken advantage of this artistic environment to organize an international symposium to bring together Music and Science and discuss the meeting points of these two worlds. Already in school, we are often taught that Science and Art belong to two different immiscible cultures. With this symposium, we want to show that they not only share many elements but can actually complement each other and bring new incredible outcomes, with a special focus on Music.
A panel of renowned experts will show us the many relations that Science and Music have, organized in 4 different blocks:
Music and Mind
Music and Social Science
Music and Medicine
Music and Science Communication
Every block will include talks from experts in the field and we will learn and discuss with them their research. Music and the plasticity of the brain, woman sponsorship in music along history or why do we like some kinds of music and dislike others are just some of the topics our speakers will talk about.
– Goals –
Promote social and "non-classical" research
Communicate science and bring it closer to the public
Promote networking, mobility and collaborations among scientists
When? 19th October 2019, 8:30-19:00
Where? Gebäude Ensemble Deutsche Werkstätten Hellerau (Moritzburger Weg 67, 01109 Dresden).
How to get there (40 min. from Altstadt): Take the tram 7 direction Hellerau until stop Infineon Süd. Then follow the path the forest until Moritzburger Weg. Take Moritzburger Weg until Gebäude Ensemble Hellerau (number 67).
Map to Gebäude Esemble Hellerau 
The event is free of charge (except dinner if you want to join) but registration is mandatory:
Programme Symposium "The Sound of Science"
If you are member of CERFA, you can join to our General Assembly which will take place at the same location on 20th October.
Check all information here: General Assembly CERFA 2019
You can also ask for one of our Travel Grant to assist to any CERFA event. Only for CERFA members
Check our social media to get all the news about the Symposium 2019 "The Sound of Science"  (#SoundScience) and CERFA General Assembly 2019 .
@SociedadCerfa
linkedin.com/in/sociedadcerfa/
Designed by Gala Fiz: Gala Fiz Instragram
Sponsors and collaborators: