International Symposium in Dresden – 19th October 2019
…where Science meets Music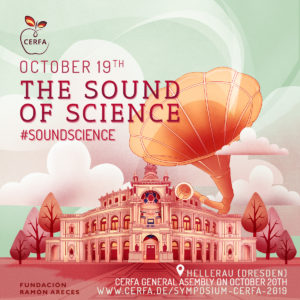 What is the relationship between science and music? To explore this unobvious connection the Saxonian delegation of CERFA organized an international symposium titled "The Sound of Science". The symposium took place on the 19th of October in Dresden, home to the renowned  Semperoper and many other remarkable theaters and musical festivals throughout the year.
The event that lasted one day gathered seven experts who were grouped in four different blocks based on their field of expertise:
Music and medicine
Music and social science
Music and mind
Music and science communication
In general, the speakers were interested in understanding how music affects human physiology and in improving the educational system to acknowledge the importance of music in our lives. Despite the diverse background of the audience, all talks raised great interest and we could witness outstanding discussions after the talks and during the breaks. To wrap up the day, the Latin band DuBras harmonized the last hours of the gathering. During this time, the attendees got the opportunity to interact with the speakers in a more relaxed atmosphere.
To sum up, the event was a great success, with more than 40 participants from many different cities in Germany and abroad and has successfully promoted non-common research among the general audience. The annual CERFA symposium was one of the many events that the organization plans around Germany during the year.
Designed by Gala Fiz: Gala Fiz Instragram
Sponsors and collaborators: