The pictures of this event are ready!
Here we leave the information of the event before it took place in case you are curious about the details and would like to join next time.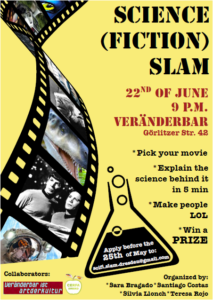 It is our pleasure to announce that TU Dresden scientists in collaboration with CERFA Saxony are organising the Science (fiction) Slam in Dresden.
What do you need to do to participate?
Pick a scientific movie or TV show

Explain the science behind it in a stand-up comedy style, in less than 5 min and without PowerPoints! Use your imagination!

Make people LOL
The audience will pay 1 Euro extra for the first drink and, if our jury of specialists chooses you as the winner… you will get all of the takings! So bring all of your friends with you! 
Send us a short description of your staging (200 words max.) by the 25th of May to scifi.slam.dresden@gmail.com. Don't miss the date!!
The top 10 candidates will be presenting at the Veränderbar (Görlitzer Str. 42, 01099 Dresden) on the 22th of June at 9 p.m.
Check the poster in high resolution and the updates in our Facebook event and do not miss the deadline 25th May for presenting as a slammer: https://www.facebook.com/events/1251516204984610/