CERFA Cancer Immunotherapy Day
Symposium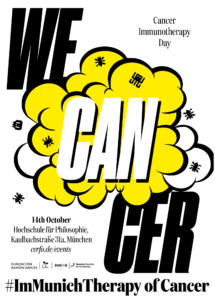 The 2018 Nobel Prize in Medicine recognized Cancer Immunotherapy as a therapeutic breakthrough among existing cancer treatments.
CERFA offers the scientific community a forum to learn and actively discuss with renowned Junior Group Leaders from Munich area and other renowned institutions in Germany, Spain and UK, about cutting-edge approaches uncovering ways to gear up the immune system in the war against cancer.
Join the #ImMunichTherapy Revolution!
Confirmed Speakers
Dates
Monday, October 14th 2019, from 8:30 to 16:00
Agenda
Free registration
Venue
Hochschule für Philosophie München
Kaulbachstraße 31a
80539, München