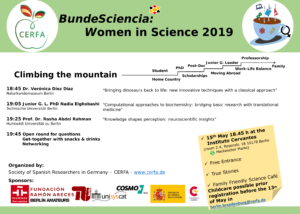 Link to Facebook Event : https://www.facebook.com/events/430743847719436/
It is a pleasure for us to invite you to the next BundeSciencia Science Café which will take place the 15th May at the Instituto Cervantes (S-Hackescher Markt, Rosenstraße 18, 10178 Berlin) at 18:45 h. This year, it will be focused on the work and personal experiences of women at different stages of its research career.
Dr. Verónica Díez Díaz from Naturkundemuseum will explain us how the development of new techniques based on a classical approach can bring dinosaurs back to life. Junior Group Leader Nadia Elghobashi from Technische Universität Berlin will clarify the use of computational approaches applied to translational medicine while Prof. Dr. Rasha Abdel Rahman will shed light to the knowledge shapes perception through neuroscientific insights.
Come and enjoy our short talks (15 mins) in a friendly and close atmosphere. We will have an open question round and time for networking at the end of the talks, while we enjoy some snacks and drinks.
Do you have kids? Bring them with you! Our event is family friendly, childcare is possible prior registration before the 13th of May in berlin.brandenburg@cerfa.de
This event is organized by the Society of Spanish Researchers in Germany – CERFA (https://cerfa.de/) and supported by the Instituto Cervantes (http://berlin.cervantes.es/es/), Technische Universität Berlin & UniSyscat (https://www.unisyscat.de/), Areces Foundation (http://fundacionareces.es/fundacionareces/), Culture Department of the Spanish Embassy (http://www.exteriores.gob.es/Embajadas/BERLIN/es/Embajada/Paginas/Secci%C3%B3nCultural.aspx), Berlin Amateurs (http://www.berlinamateurs.com/) and Cosmo Radio (https://www1.wdr.de/radio/cosmo/).
Link to Facebook Event : https://www.facebook.com/events/430743847719436/