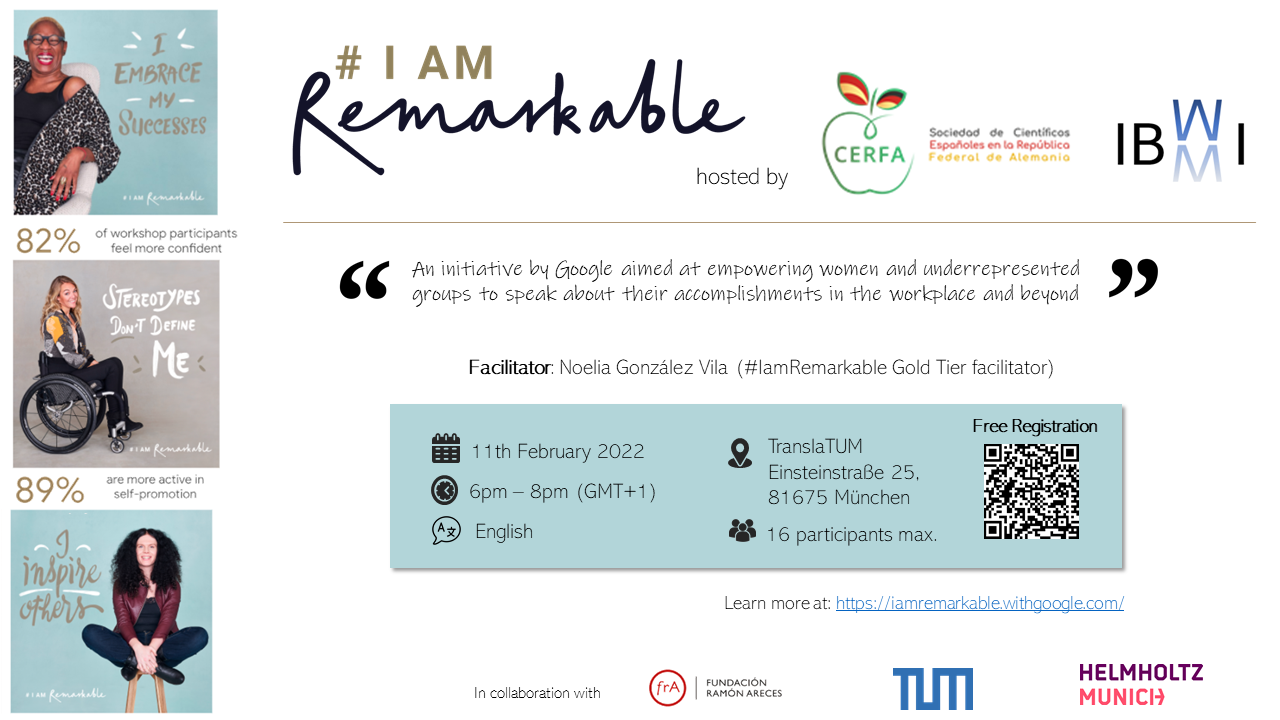 Together with Women of IBMI and Google, CERFA is proud to offer a #IamRemarkable workshop to celebrate the International Day of Women and Girls in Science.
#IamRemarkable is a Google initiative empowering women and underrepresented groups to speak openly about their accomplishments in the workplace and beyond, thereby breaking modesty norms and glass ceilings. Learn more at g.co/IamRemarkable 
In this 120min interactive session by we will share data and research regarding self promotion and unconscious bias and you will participate in group discussions and exercises to develop the confidence and skills to promote yourself effectively. 
Do you want to boost your self-confidence and celebrate your achievements? Join us!
When:  Friday, February 11, 2022 (18:00 – 20:00h)
Where: TranslaTUM (Einsteinstraße 25, 81675 München, Alemania)
Facilitator: Noelia Gonzalez Vila (Gold Tier facilitator)
Following the current regulations this is a 2G+ Event*

This is a free workshop limited to 16 participants. Members of CERFA and Women of IBMI will have priority. 
*Covid Safety Information:
Admission will only be granted to persons who are fully vaccinated or recovered from Covid 19 and who can present a negative certified antigen test (not older than 24 hours). A test is not required for persons who have had their booster vaccination. Since 13th January the testing requirement will no longer apply from the first day of booster vaccination. From then on, double vaccinated persons who were infected afterwards with Corona and have demonstrably recovered will also be considered as boostered.
Participants must show the confirmation email, proof of complete vaccination or recovery, proof of Corona testing (if necessary), and an ID card.
It is mandatory to wear an FFP2 mask in the entire interior of the auditorium.
The auditorium will be narrowed to 25% and distances will be guaranteed.