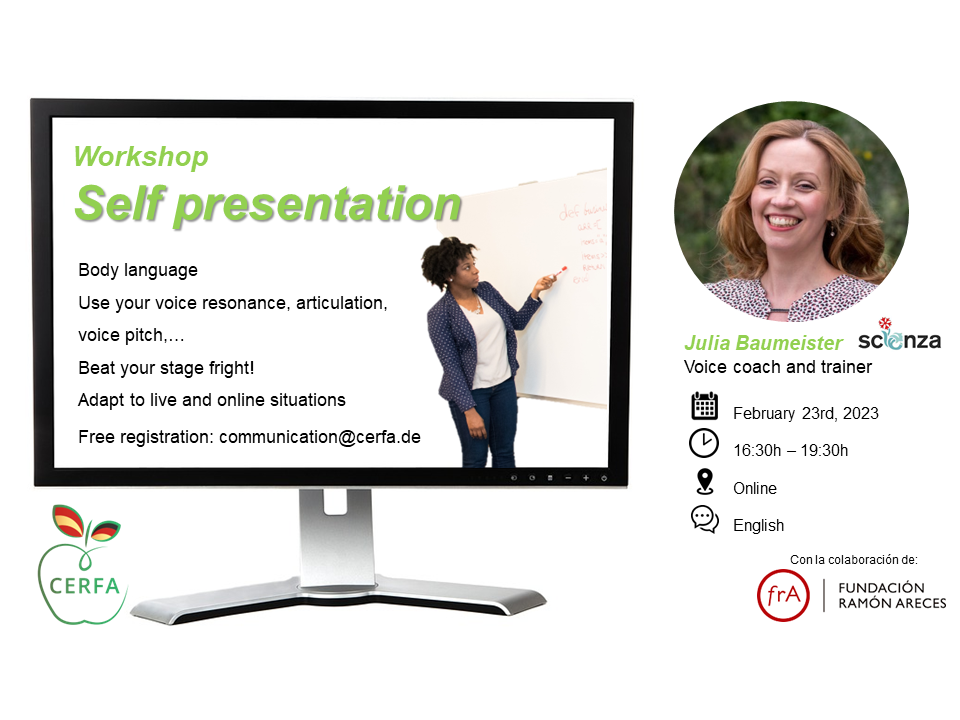 Soft skill education is usually focused on professional technical and complementary skills. However, personal appearance and presentation skills are crucial to give good impressions. Clear communication is essential, but also body language and voice tone are crucial to keep the attention of your audience, whether in a one-to-one meeting, a small group presentation or at a conference, or to meet new people and establish new collaborations. Thus, being aware and identifying how to take advantage of your own voice and appearance can improve your confidence and help to maintain a good professional status. Increasing your confidence can also help you control stage fright to face public presentations, equally important in academic and industrial positions.
This workshop, provided by Julia Baumeister, an opera singer specialized in professional coaching for scientists (Scienza, Berlin, https://www.scienza-berlin.de/en/team/julia-baumeister-2), will cover
• The ability to adapt your body language to different situations: videocalls, online seminars, face-to-face situations,
• The voice and its features: resonance, voice tone, articulation in the context of online situations, and
• Stage fright: dialogue with the audience and act with confidence.
No previous knowledge or tasks will be required to join this workshop.
Registration for this workshop is free for participants. There are limited seats, so they will be covered on a "first arrived first served" basis. Afterwards, a queue list is made where CERFA members will be given priority if any spot is made available.
Registered participants will receive an email to confirm participation. If it is not possible to attend, notification in due time to select a participant in the queue will be appreciated. Details for the online meeting will be provided a day before the workshop.
Registration is available from Jan 23rd here: https://www.eventbrite.de/e/cerfa-workshop-in-self-presentation-tickets-477292624087
In case you are not able to attend, please cancel your participation in due time.