septiembre 20, 2018




7:00 pm - 10:00 pm

septiembre 20, 2018




7:00 pm - 10:00 pm
Is VACCINATION an option? What about the new vaccines against HPV, tick-transmitted pathogens or stationary flu? Are we over-vaccinated? Can we choose not to vaccinate ourselves or our kids? How are our decisions regarding vaccination impacting other people's lives?
Vaccines are the greatest revolution of the 20th century. WHO estimates that vaccines protect anually more than 3 million people from deadful infectious diseases and cancer. Nevertheless, in our  "aseptic western society" some people question their role and need to avoid possible pandemic situations that could clash the world as we know it.
Here we will address the past and future of vaccines and discuss about their relevance in a globalized world.
We encourage you to participate and share your thoughts in this open discussion seminar conducted by experts from academia and pharmaceutical industry sectors:
Pharmaceutical industry sector:

Dr. José Medina

, Senior Scientist at Bavarian Nordic

Academia:

Prof. Dr. med. Ulrike Protzer

, TUM / Helmholtz Zentrum München – Institute of Virology and Chair in Virology, Institute Director

Global Health:

Dr. Günter Fröschl

, Center for International Health and scientific advisor at the Department of Infectious Diseases and Tropical Medicine (LMU) in Munich
This discussion seminar is organized by CERFA Bayern and the Cervantes Institute München. Spanish food and drinks will be served right after the discussion!
Link to the event announced in Cervantes Institute München hier.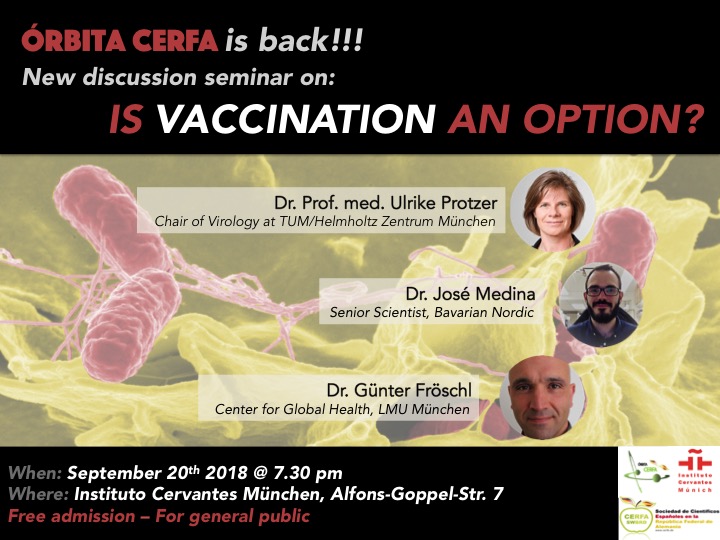 Dirección:
Alfons-Goppel-Str. 7
,
München