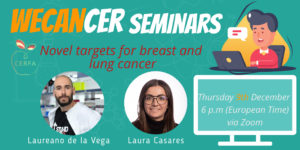 A new edition of the "WeCanCer Seminars" series will take place next Thursday, December 9th at 6:00 p.m. (CET). These seminars are organized by the CERFA Cancer subgroup. On this occasion, the seminar will cover the topic of "Novel targets for breast and lung cancer", and will be given by the following two invited speakers.
Laureano de la Vega, PhD.
Group leader at University of Dundee
"The kinase DYRK2 as a novel target in Triple Negative Breast Cancer".
Laura Casares Pérez, PhD student.
PhD student at University of Dundee
"Novel strategies to target resistant BACH1 in lung and breast cancer"
The session will take place virtually open via the zoom platform. Registration link:  https://us06web.zoom.us/meeting/register/tZcvduquqTkuHtyLSE6Up98QXLi31ixR21y_
We invite you to attend and participate of the Q&A part of this interesting session. If you are also interested in participated as a speaker in future WeCanCer seminars, do not hesitate to write us an email at cancer@cerfa.de